Tiles or Granite? Granite has been a household name for countertops and flooring for many years now however its industry is seriously challenged by the emerging competition of vitrified tiles. Vitrified tiles are the more updated version of ceramic tiles which have captured quite a market since it was introduced, In this blog, we would like to give an overview of both the products so that you can decide which one suits your preference.
Before starting with their advantages and disadvantages it would be nice to give you guys a preview of both the products.
Granite- Granite is a common, coarse-grained, hard igneous rock consisting chiefly of quartz, orthoclase or microcline, and mica. Granite has been used as a building material since ancient times. It is one of the oldest and most durable building products available, and will far outlast the building in which it is installed. It has become the material of choice for today's luxury homes and offices because of its enduring beauty, and because no synthetic material can yet compare to its elegance and performance.
Vitrified tiles- They are similar to traditional ceramic tiles, but include silica and clay in the mix. During the process of vitrification, the silica and clay melt and blend together to form a glass-like element inside each tile, allowing it to retain the original sheen even after several years of use. These tiles come in a variety of styles, patterns, and colors, making them a viable alternative to marble or granite. However, due to the addition of silica and clay and the vitrification process, these tiles cost a little more than ceramic ones.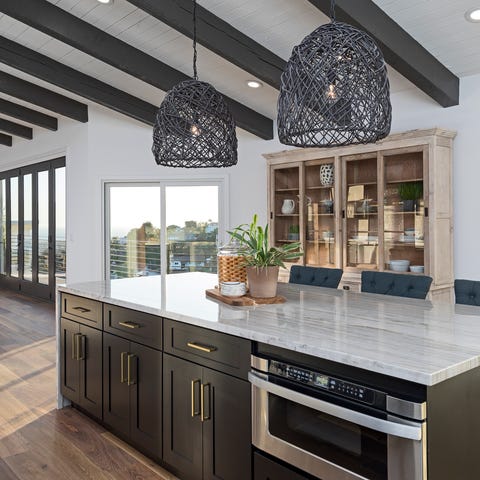 Granite advantages-
Its timeless elegance, outstanding hardness, and resistance to abrasion make this the perfect material for outdoor and indoor flooring.
The naturally formed granite displays unique gradations and changes in color and pattern.
Granite stands the test of time even after heavy use. Moreover, it is one of the hardest natural stones as we know it.
When sealed, it becomes highly resistant to stains, heat, acids, and water, making it a smart choice for bathroom flooring and kitchen countertops.
 The natural inflections in granite stand out and become a unique focal point. While the color palette might be limited, the mix of minerals on the surface adds subtle texture.
This millennial stone becomes versatile and adaptable to all surfaces in inhabitable spaces and in interior decoration. On walls, flooring, and facades as well as countertops.
It is resistant to UV radiation and so maintains its color like the first day.
Vitrified tiles advantages-
The artificially constructed vitrified tiles appear homogenous to the eye in pattern and color.
 Vitrified tiles are naturally water-resistant.
 In comparison to granite, vitrified tiles prove themselves more economical. Moreover, factory-made vitrified tiles are available in a number of sizes.
 Vitrified tiles present a uniform surface in terms of color and hue. This means achieving an evenly colored surface is easier.
Since its artificially made, there is a lot more variety in pattern, texture, and warmth. Vitrified tiles hold a smooth finishing, are fade and scrape resistant.
Due to moisture resistance, vitrified tiles prevent bacteria and fungi from growing.
Vitrified tiles disadvantages-
The first and the biggest disadvantage of Vitrified tiles is that they aren't even half as lasting as granites, And hence have to be replaced again after some point
In order to ensure stability, high-quality adhesives are used.
Tiles need to be installed by an expert tile layer to ensure thin, even and neat joints between the tiles.
The tile with the defect must be cut away along the grout lines and surrounding material could be damaged in the process.
Every year or after two years, the grout must be resealed or it will begin to look dirty. The sealant will create a hazy finish on the tiles if allowed to dry.
Vitrified tiles are not environment friendly as the process of making them causes a significant cost of energy and carbon dioxide.
Granite disadvantages-
It is expensive in comparison to vitrified tiles as it is naturally occurring.
Granite needs to be professionally installed for a few reasons. The material itself weighs a great deal, professional installation is necessary for a warranty of your new countertop, and granite installation and fabrication require specialized tools and experience.
While granite was less common just a few years ago, it's now the most common kitchen countertop material in the world.
It is possible for granite to be cracked or chipped if it's struck by a sharp or hard object like a meat cleaver, especially if the object is dropped on a corner. The good news is this is a fairly uncommon occurrence, and it usually only happens when the countertop is struck very hard in a particularly weak area.